Our Stallion Mr Blackburn Pistol and mares Wild Berry Pine, Guns Poco, She Thinks Gold, Sombrera Playgirl are Descendants of Poco Bueno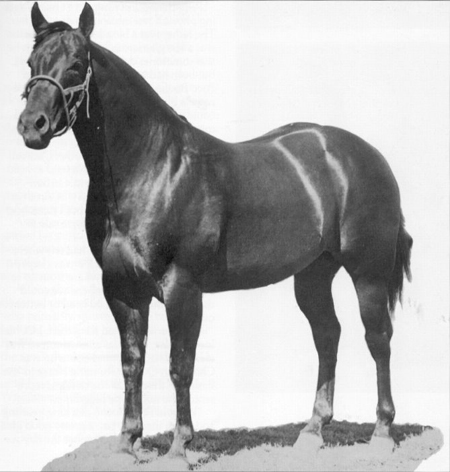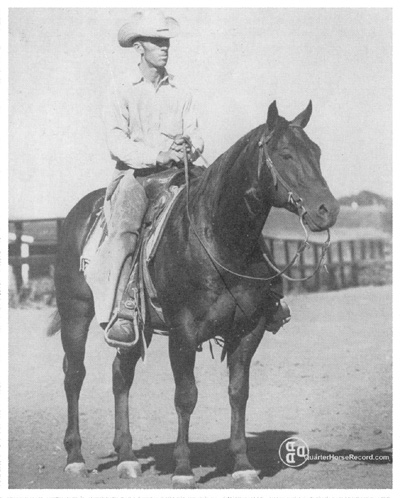 Photos courtesy of Quarterhorserecord.com
Our mare Blues Red Berry, Betcha Shes Sweet, Guns Poco, Sombrera Playgirl are Descendant of Poco Lena
a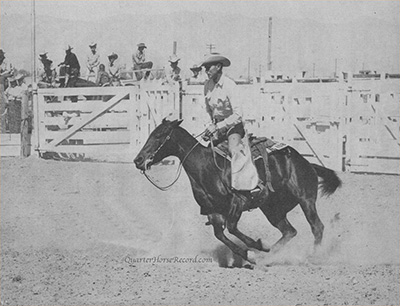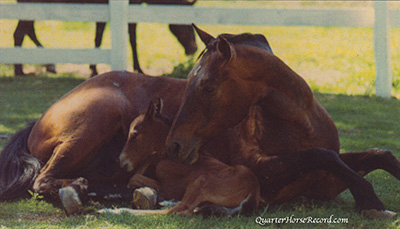 Photos courtesy of Quarterhorserecord.com
Our Mares Blues Red Berry, Betcha Shes Sweet, Guns Poco, Dial A Boon are Descendants of Doc 0'Lena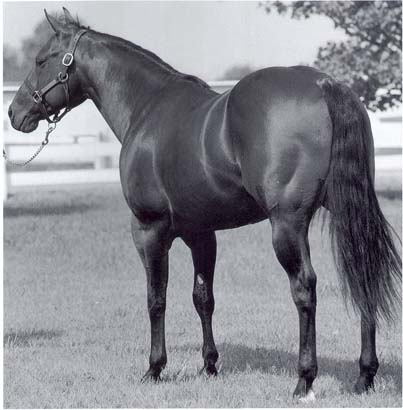 It is really quite a miracle that Doc O'Lena was ever born at all.

The Jensen family of California bought his dam, the severely foundered Poco Lena, in 1963, with the intention of breeding her to their already proven halter and performance sire, Doc Bar.  In addition to an already heart wrenching story behind her laminitis, Poco Lena had suffered long-term effects from the drugs that had kept her from cycling during her cutting career.  It took three breeding seasons before she carried a foal.  That foal was Doc O'Lena, born June 21, 1967.

Shorty Freeman of Scottsdale, Arizona, trained Doc O'Lena as a 2-year-old (though he always conceded that the colt trained himself).  At the 1970 National Cutting Horse Association Futurity a year later, Doc O'Lena and Freeman became the first competitors to make a clean sweep of the futurity's preliminary go-rounds, semi-finals and finals.  Doc O'Lena earned a lifetime amount of $21,991 in the NCHA.

When Lenaette won the NCHA Futurity in 1975, Doc O'Lena became the first futurity winner to sire a winner.  Smart Little Lena, a stallion from Doc O'Lena's ninth crop, was the first horse to win NCHA's Triple Crown.  Doc O'Lena also sired Tanquery Gin, Shorty Lena, CD Olena, Mr Sun O Lena, Travalena and Scarlett O Lena.  By 1978, Doc O'Lena had been syndicated for an unprecedented $2.1 million.

All in all, Doc O'Lena sired 1,310 foals.  Of these, 321 accumulated 3,978.5 points; 87 earned performance Registers of Merit (also nine amateur, three youth); nine earned Superior performance awards; four were world champions; six were youth world champions; six were youth world champions; and four were reserve world champions.

Doc O'Lena died on February 27, 1993, at the Phillips Ranch in Frisco, Texas.  He was inducted into the American Quarter Horse Hall of Fame in 1997.
Our Mares Blues Red Berry, Shessonita, Betcha Shes Sweet, Dial A Boon are Descendants of Peppy San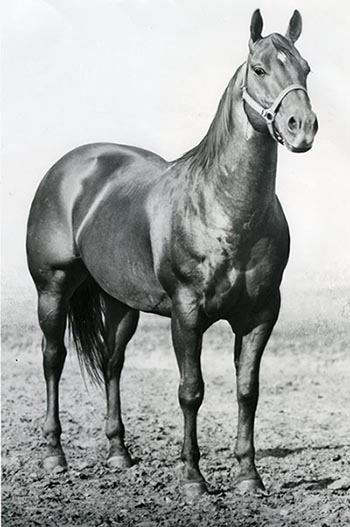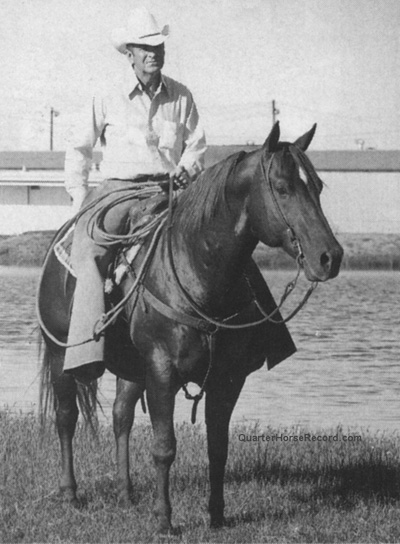 Photos courtesy of Quarterhorserecord.com
A new strain of top cow horses came along with the introduction of Peppy San.

Peppy San was foaled in 1959.  Bred by Gordon Howell of El Paso, Texas, he was the son of Leo San by Leo and out of the Pep Up mare Peppy Belle.  The sorrel colt was the only AQHA Champion ever produced by the pair.

Peppy San was a natural in the world of cutting.  In 1962, he earned the reserve championship at the first National Cutting Horse Association cutting futurity ridden by Matlock Rose of Gainesville, Texas.  After being purchased by the Douglas Lake Land and Cattle Company in 1963, Peppy San became the ranch's senior stallion.  Over the next two years, he only performed in the cutting arena three to four times a year, but placed well in each show, and was ranked fifth in the Canadian standings in 1965.

In 1967, Rose contracted to haul Peppy San for the NCHA World Championship.  During that year, the duo competed in 52 shows, taking home 50 checks.  They easily won the world title, and in doing so, set a record for the most money earned in one year - $20,112.65.  All in all, Peppy San earned 180 cutting points and 26 halter points, his AQHA Championship as a 3-year-old, a Superior in cutting and the 1967 high-point cutting stallion title.

After earning the NCHA world championship in 1967, Peppy San was retired to stud on the Canadian ranch until 1975, when he was moved to stand at the Rose Ranch in Texas.  While he stood at the Douglas Lake Land and Cattle Company, he was bred to a limited number of mares.  It was not until he was moved south and was bred to a larger number of outside mares that Peppy San was recognized as a top sire in his field.

Peppy San sired 493 registered foals.  Of those, 134 earned 2,279 points, 10 Superiors and 56 Registers of Merit.  His foals nabbed 10 world champion titles, four NCHA world championships and one National Reined Cow Horse Association snaffle bit futurity world championship.  Peppy San sired 1991 AQHA world champion and Hall of Fame member Royal Santana and five-time AQHA and NCHA Cutting World Champion Peponita.

Peppy San was euthanized April 26, 1989, due to complications from old age.  He was inducted into the American Quarter Horse Hall of Fame in 1999.
Our Mares Guns Poco, Dial A Boon, Spade Rio Gypsy are Descendants of Peppy San Badger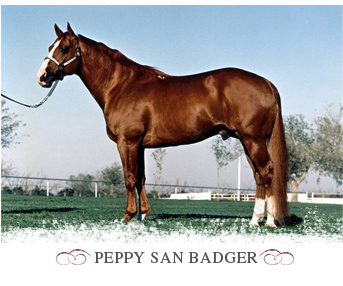 Buster Welch, long tied to the Peppy strain of horses, once said that Mr San Peppy out-sired himself with "Little Peppy."

Foaled in 1974, the sorrel stallion was by Mr San Peppy by Leo San and out of Sugar Badger by Grey Badger III.  Bred by Joe Kirk Fulton of Lubbock, Texas, Peppy San Badger, better known as Little Peppy, traced back to the foundation lines of the King Ranch.  Peppy San Badger grew up on Fulton's ranch under the care of Wayne Pooley, but Pooley never rode the colt.  He started handling the colt, saddling him and putting him on the walker, but the colt came down with distemper and further training was delayed until he could recover.  The first time Welch saw the young stallion, he didn't look good.  "We stopped at Fulton's place because I always like to see Mr San Peppy's colts," Welch said.  "I'll never forget how bad Little Peppy looked.  He was standing in a round pen, rotten with distemper – a little skinny-looking colt.  I'd heard he was a good colt, but he sure didn't bowl me over.  The next time I saw him, though, he was a 3-year-old, and the most majestic-looking young horse you ever saw."

That next spring, Fulton heard about the King Ranch's search for a Mr San Peppy son, so he sent Little Peppy down to the King Ranch for Welch to evaluate the colt's progress.  Steven J. "Tio" Kleberg, who was managing the historical South Texas spread, brought Peppy San Badger back to the land of his ancestors to take over for his sire, Mr San Peppy.

A member of the NCHA Hall of Fame, Little Peppy won the NCHA Futurity in 1977 and the Derby in 1978, was reserve world champion in 1980, and won the 1981 NCHA Finals.  Trained by Buster Welch, his total earnings topped $172,710.

In 19 seasons, Peppy San Badger sired 2,325 AQHA registered foals that have earned more than 7,200 points in all divisions, and won more than $25 million.  The National Reined Cow Horse Association World Championship Snaffle Bit Futurity in 2001 illustrated just how prolific Peppy San Badger's offspring have become.  At the Snaffle Bit Futurity, four of the top 10 open horses were by sons of Peppy San Badger.  At the NCHA Futurity, four of the top 20 finalists in the open and non pro were by Little Peppy sons.

Cutting legend Peppy San Badger was euthanized July 8, 2005, at 31 years of age.

Peppy San Badger was inducted into the American Quarter Horse Hall of Fame in 2008.
Our mare Shessonita, are Descendants Of Poco Tivio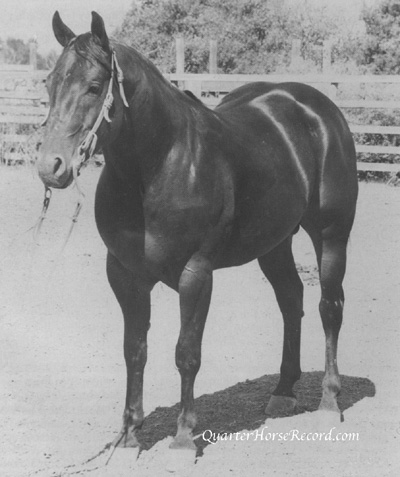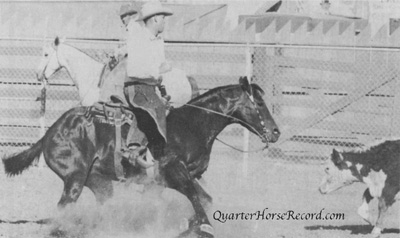 Photos courtesy of Quarterhorserecord.com
Bred by E. Paul Waggoner's Three D Stock Farm, Poco Tivio was foaled in 1947, and was the first foal out of a then 4-year-old mare named Sheilwin. His sire, Poco Bueno, was also owned by Three D.
When "Tivio" was 3 and already started in cutting training under Pine Johnson, he sold to Fort Worth car dealer Cliff Magers for $5,000. Milt Bennett took over the horse's training for a year until Don Dodge bought the stallion for $15,000, reportedly the highest price ever paid for a cutting horse at the time.
Immediately, the pair started winning. In 1951 and 1952, they placed fifth in the National Cutting Horse Association year-end top 10. In 1952, Dodge showed Tivio to his AQHA Champion title, consistently winning in both cutting and halter.
Soon Dodge retired Tivio and stood him to outside mares for $300. But it wasn't long before the trainer had Poco Lena, Tivio's full sister, in his barn. So, Dodge sold Tivio to California horseman Charley Araujo.
As a stallion, Poco Tivio was known for passing on his low-key temperament and flashy working style. His offspring showed as well in halter as in cutting.
Tivio received the NCHA Certificate of Ability Bronze Award, had $11,000 in NCHA earnings and is a member of the Working Cow Horse Hall of Fame. He sired 308 registered foals in 25 crops. Of those, 81 were AQHA point earners, 10 AQHA Champions, 26 ROM earners, and six Superior award winners that won 10 Superior performance awards in five events.
Tivio's daughters have produced the winners of more than $2.2 million in AQHA, NCHA, National Reining Horse Association and National Reined Cow Horse Association competition. The foals of those mares have earned 6,641 AQHA points in halter and performance, 10 open and youth world championships and two open reserve world championships.
Araujo stood Poco Tivio for several years and then just before his death gave the stallion to his farrier, Floyd Boss, in 1971.
Poco Tivio died in 1976. He was inducted into the American Quarter Horse Hall of Fame in 2013.
Our Mare Guns Poco is a Descendant of Freckles Playboy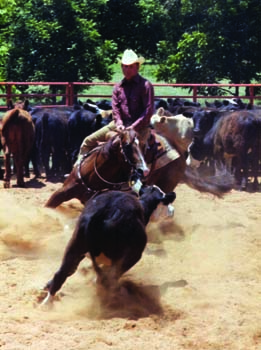 Freckles Playboy's first foal crop hit the ground in 1978, and it was soon clear that he wasn't just a stallion; he was a sire.
It was the day before Groundhog's Day in 1973 when Freckles Playboy was born, sired by Jewel's Leo Bar, a money-earning son of Sugar Bars, and out of Gay Jay, a spicy-hot cutting mare.
Terry Riddle started the sorrel colt and trained him for breeder and owner Marion Flynt, a Texas oilman. The two men pointed "Playboy" to the 1976 National Cutting Horse Association Futurity, where he was the co-reserve champion. At the 1977 NCHA Derby, he was third, and he also won an AQHA world championship in junior cutting that year. In 1978, he was second in the NCHA Finals and third at the AQHA World Championship Show in senior cutting. He earned 25 AQHA cutting points and $59,976 in NCHA competition.
But the show-pen successes were cut short when Freckles Playboy was diagnosed with navicular syndrome in 1979. Flynt gifted the stallion to his ranch manager, Kay Floyd, who decided to promote him as a sire.
Today, within AQHA, Freckles Playboy is among the top 10 all-time leading maternal grandsires (by points earned) for both cutting and working cow horse.
In NCHA, Freckles Playboy is ranked third on the list of all-time leading sires, by offspring earnings. His sons and daughters tallied an amazing $24.5 million in NCHA earnings. Freckles Playboy offspring also earned more than $285,000 in the National Reined Cow Horse Association, more than $125,000 in the National Reining Horse Association and nearly $177,000 at the AQHA World Championship Show.
From 2,084 foals in 26 foal crops, Freckles Playboy sired 13 AQHA world champions and 17 reserve world champions. When you move to his daughters' foals, then you're talking about an additional 13 AQHA world champions, 15 reserve world champions and more than $35 million in earnings with AQHA alliance partners.
Freckles Playboy was euthanized due to kidney failure in 2003. He was inducted into the American Quarter Horse Hall of Fame in 2013.